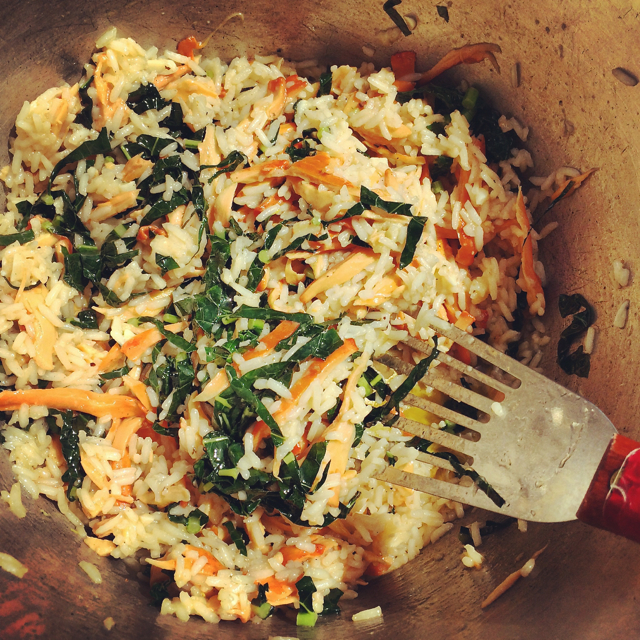 Ingredients:
1 lb fresh Chicken of the Woods or shitake mushrooms
2 c jasmine rice
1 c white wine
3 c chicken stock
3 cloves garlic
1/2 c butter
1 bunch dinosaur kale
salt & pepper
parmesan cheese 
Instructions:
Shred the Chicken of the Woods into long thin strips.  Skip using the base of the mushroom if it is to stiff and woody.  Dunk briefly in water to wash off any dirt.  Lay on a towel and pat dry.  Melt half the butter.  Add the garlic and sauté briefly.  Add the mushrooms and sauté for several minutes, then add one cup of chicken stock.  Cover and simmer for 5 minutes until tender.  Chicken of the Woods can be tough so make sure they are soft.
When the mushrooms are tender, melt the remaining butter in a separate pan.  Add rice and sauté until grains are translucent.  Season with salt and pepper.  Add wine to the rice and quickly boil away until rice seams mostly dry.  Add the mushrooms, their liquid and remaining chicken stock.  Bring to a boil, then reduce to a simmer for 12 minutes.
Shred the dinosaur kale into fine ribbons.  When the rice is al dente (just tender), add the kale and stir to combine.  Remove the rice from the heat and cover for 5 minutes.  Fluff with a fork and top with a flurry of parmesan cheese and a grind of pepper just before serving.