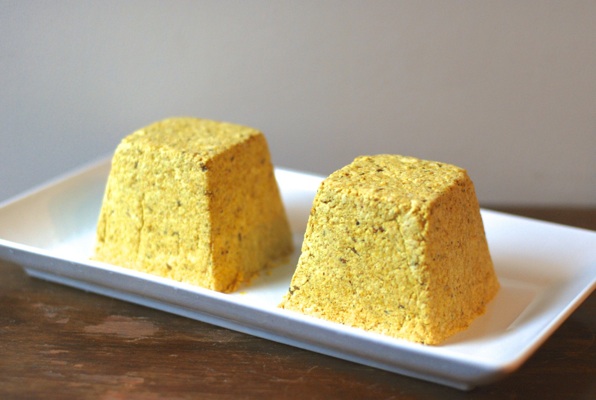 Ingredients:
3 quarts unsweetened, unflavored soy milk, preferably homemade, unsweetened
2 tbs nigari diluted in 3/4 c water
1/2 tsp mustard seed
1/2 tsp coriander seed
1/2 tsp cumin seed
1/2 tsp ground cardamom
1 tsp garam masala
1 tsp tumeric
2 tsp curry powder (mild or hot)
2 tsp kosher salt
Instructions:
In a dry skillet, lightly toast the mustard, coriander and cumin seeds until fragrant. Lightly crush with a mortar or rolling pin. Combine with the rest of spices and salt and set aside.
In a large pot, bring the soy milk to 160 degrees or simmer until a skin begins to form on the top. Remove from heat and add half of the nigari solution and stir well. Then add the rest of the nigari and gently stir until the tofu curds form. Put the lid on and let the curds set for 15 minutes.
Line a strainer with double layers of cheese cloth or a clean tea towel. Gently ladle the tofu curds into the strainer. Let drain for 10 minutes or until there are no visible pools of water. The curds will be wet but not soaking. Pour the curds into a bowl and add the spice-salt mixture. Toss gently with a spoon or your fingers to distribute.
Line a strainer or mold with cheese cloth and pack in your spiced tofu. You want it firmly loaded up. When full, put a layer of cheese cloth on top and weight it down with a heavy jar or can. If you have a tofu or cheese press, then use that. Set the strainer or mold over a pan to catch the whey. It can stain since it's full of tumeric. Let the tofu press for at least 8 hours. Unmold and store, wrapped in plastic in fridge, or submerged in water like traditional tofu. Use the smallest container you can find as you don't want the water to leach out the curry flavor.