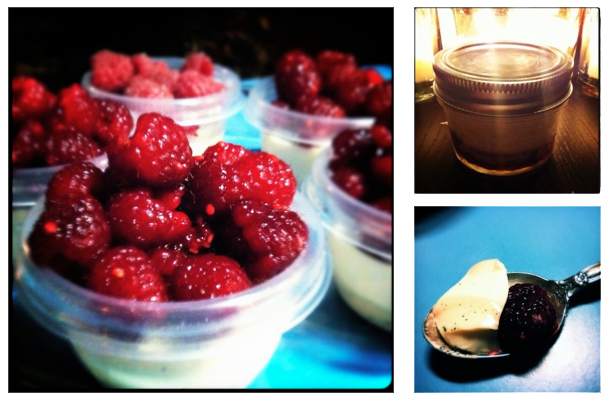 Ingredients:
2 tsp powdered gelatin
2 cups buttermilk
2 cups heavy cream
1/2 cup sugar
1/4 cup rum (optional)
2 vanilla beans, split
2" strip lemon peel
Instructions:
Sprinkle gelatin over 2 tablespoons of the cream. Let soften for 5 minutes. Meanwhile combine the buttermilk, cream, sugar, optional run, vanilla beans and lemon peel in a sauce pan. Heat until the sugar is dissolved. Add the gelatin and stir until dissolved. Strain the mixture through a fine sieve and set aside. Choose vessels that will hold about 4-6 ounces. Ramekins, juice glasses and jelly jars all work great. Cooked fruit, jam, jelly or syrup (maple, honey, fruit syrup) can be placed on the bottom of the cup before you pour in the panna cotta. Add a tablespoon in to the bottom of the ramekin. Gently spoon in the panna cotta liquid. If you want to use fresh fruit, add the panna cotta to the ramekin and top with fruit when chilled. Chill the panna cotta for at least 8 hours or over night. Serves 6-8.