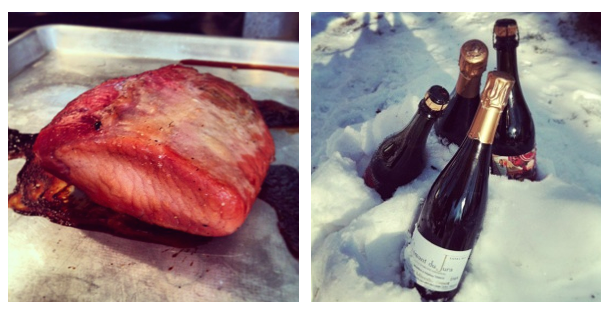 Ingredients:
2 lbs trimmed pork loin or pork tenderloin
2 tbs kosher salt
1 tsp pink salt (DQ Curing Salt)
1 tsp juniper berries, crushed
1 tsp peppercorns, crushed
1 bay leaf, crumbled
1/4 tsp nutmeg
1/4 c maple syrup
2 tbs smokey scotch whisky (smokier the better)
Instructions:
Mix pork and all the ingredients in a ziplock back. Place in the refrigerator for 5 days, flipping the pork each day. When the pork feels stiff throughout, remove from the bag and discard the brine. Rinse the pork and pat dry. Return to a clean ziplock bag to rest another 24 hours, which further distributes the brine within the meat. Remove a small slice and fry it to test for salt level.
Heat your oven to 300. Slow roast the pork loin until the internal temperature reaches 150 degrees. Serve warm, room temp, or chilled.