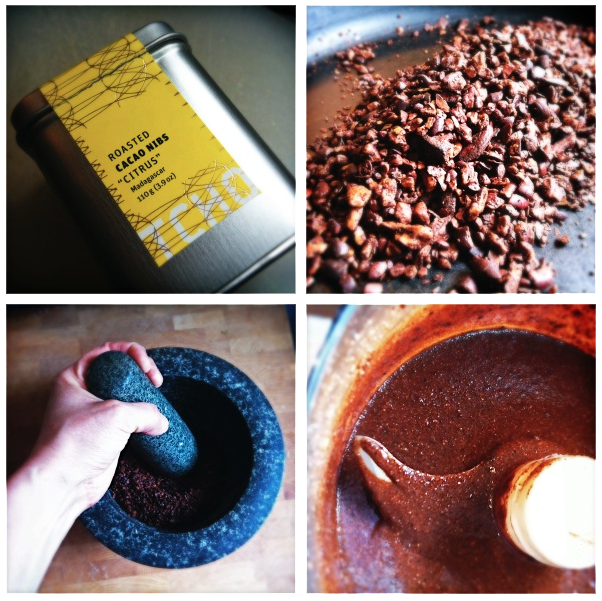 Adapted from David Lebovitz "Chocolate-Hazelnut Spread."
Ingredients:
4 oz quality cacao nibs
1/4 cup coarse raw sugar
2 cups raw hazelnuts
2 tbs nut oil or extra virgin olive oil (as needed)
pinch of salt
Instructions:
In a heavy bottom dry pan, lightly toast the cacao nibs until fragrant. Combine the nibs and sugar in a mortar and pestle. Grind as finely as you can, pounding the heck out of them. Toast the hazelnuts in the same dry pan until lightly brown. Add the ground nibs/sugar mix and hazelnuts to a food processor. Process until finely ground, scrapping down the sides. Add 2 tablespoons oil and a good pinch of salt and blend. If the mixture is still not liquifying, add a little more oil. You're trying to get the nibs and nuts to release their own oil, so it may take a while. Blend until liquid like the picture above. Taste the mixture and adjust the sugar to your liking. Pour the mixture in a glass jar and store in the refrigerator. The mixture will solidify. Warm slighting to make spreadable. Try not to eat it all the first day.