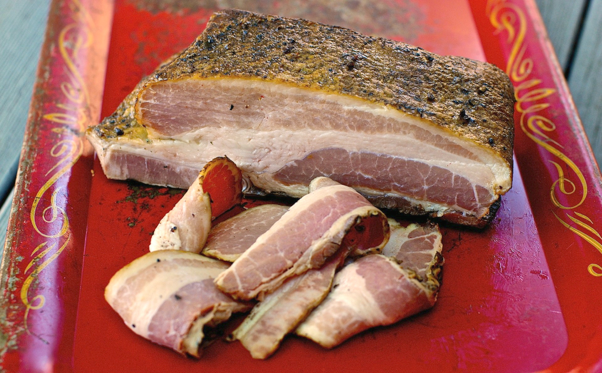 Ingredients:
10 lbs pork belly, skin removed
3/4 c honey
1/2 c kosher salt
4 tsp pink curing salt #1
4 tbs black peppercorns, cracked
4 bay leaves, crumbled
2 tsp nutmeg, freshly grated
2 tbs juniper berries, cracked
Instructions:
Cut your belly into 2 or 3 pieces that will easily fit in to 1 or 2 gallon ziplock bags or a high sided, non-reactive pan.  Divide the honey evenly between the belly pieces.  Combine the all the other dry ingredients, mix well, and divide evenly between the pieces.  Rub the ingredients around to distribute.
Each day, flip the bellies to redistribute the brine.  Let cure for 7 days.  When done, rinse the bellies well under cold water, discarding the bring and large bits of herbs and spices.  Some will stay imbedded in the pork, which is fine.  Pat the bellies dry return them to the fridge until you are ready to smoke them.  They will hold for at least another week or two.
Fire up your smoker or indirect grill.  You want a low temp, around 225 degrees.  When it's up to temp, add your smoking wood (I use apple sawdust and green sticks of crab apple wood) and smoke for 2-3 hours.  Add your smoking wood as needed.  The bacon should reach an interior temp of at least 150.
Once smoked, return to the refrigerator.  Slice as desired.  The bacon may be frozen at this point for 3-4 months.  Unfortunately, mine never makes it that far.  We eat is as fast as I can cure it.