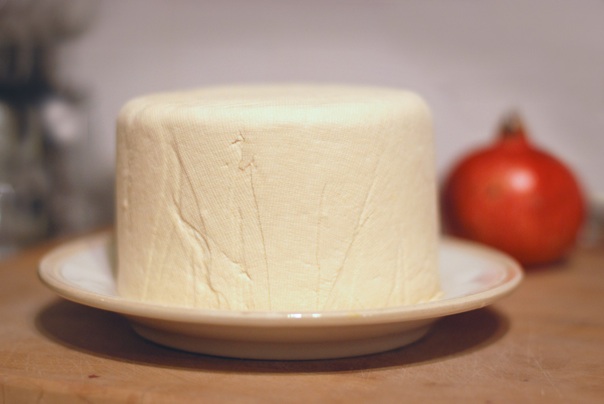 Ingredients:
1.5 lbs organic dried soybeans (about 6 cups)
1 gallon water
1.5 gallons water
3 tbs crystalized nigari mixed with 1 cup water
Special Equipment:
3 lb cheese mold w/follower
cheese cloth
cheese press
cheese mat or sushi mat
Instructions:
Pick over your soybeans and remove any rocks or debris. Soak the beans in a gallon of water for 8 hours or overnight. In a blender, puree the beans and soaking water. Push the liquid through a medium strainer, re-blending the large grained pulp with a little extra water to get all the soy milk out of the beans that you can. Add all the pulp and soy milk to a 4-5 gallon pot along with the additional 1.5 gallons of water. Or split the mixture between two smaller pots or cook in batches. You will need lots of head space in your pot as the soy foams up considerably.
Heat your soy on medium high, stirring with a wooden spoon to prevent the soy from scorching on bottom of the pan. Just before the mixture boils it will foam up, almost doubling in volume. Turn the heat down to medium low and simmer for 10 minutes, continuing to stir. Remove from heat.
Line a colander with two layers of fine cheese cloth over another big pot. Pour the hot soy mixture into the cloth. Once most of the soy milk has strained out, tie up the ends of the cheese cloth and squeeze out as much liquid as possible. I put my follower on top of it and pressed hard. The remaining soy meal is called okara and is great used in baking, meatloaf, eggs and other dishes.
Check the temperature of the soy milk. Return it to the heat if needed. When it is between 150 to 160 degrees, remove from heat and add half nigari solution. Stir well. Add the remaining nigari solution and stir gently until the soy milk starts to coagulate. Stop stirring, put the lid on, and let rest for 15 minutes.
Line a 3 lb cheese mold with two layers of cheese cloth. I secure mine with a rubber band to keep the cloth from slipping. Ladle the curdled soy milk into the cheese mold. When full, place the follower on top and assemble your cheese press. I placed mine on a rimmed cookie sheet to catch the whey. Apply 20 lbs of pressure to start for 20 minutes. Then apply 40 lbs of pressure for an hour. If the pressure releases before time is up, reapply it. When the hour is up, gently un-mold and unwrap the tofu. To store, cover with water and refrigerate. I bought my cheese press and supplies from New England Cheesemaking Company.