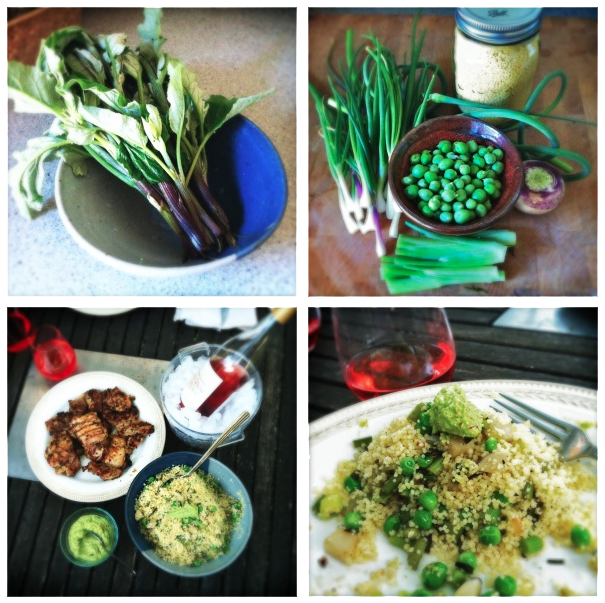 Ingredients:
For the couscous:
1 c burdock stem, peeled & diced
1/2 c fresh shelled peas or diced snap peas
1/2 c green onions, chopped
1/2 c baby fennel, chopped, or regular fennel, diced
1/2 c baby turnip, chopped
1 c couscous
1 3/4 c water
1/2 lemon
2 tbs olive oil
salt, pepper to taste
For the pesto:
1 c garlic scapes, chopped
1/2 c toasted almonds
1"x1" strip lemon peel
1/2 lemon
1/4 c olive oil
3-4 tbs water
salt & pepper
Instructions:
For the couscous, boil the water along with the juice from half a lemon, the lemon rind, salt and pepper to taste. Remove the rind and add the couscous. Turn off the heat and cover for 15 minutes.
For the garlic pesto, in a food processor, finely chop the garlic scapes, almonds and lemon peel. Add the lemon juice and olive oil and blend until very creamy. If the pesto is to stiff, add a little more olive oil or a couple tablespoons of water. Season with salt and pepper.
Meanwhile, prep the vegetables. Sauté the turnip and burdock stem in olive oil until just crisp-tender. Add the peas, fennel, green onions, and salt and pepper, and continue cooking until all else is just cooked, keeping things green and bright.
To serve, turn the couscous into bowl and fluff with a fork. Add the vegetables and toss, adjusting the seasonings in the bowl. Serve with the garlic scape pesto and a wedge of lemon at the table.