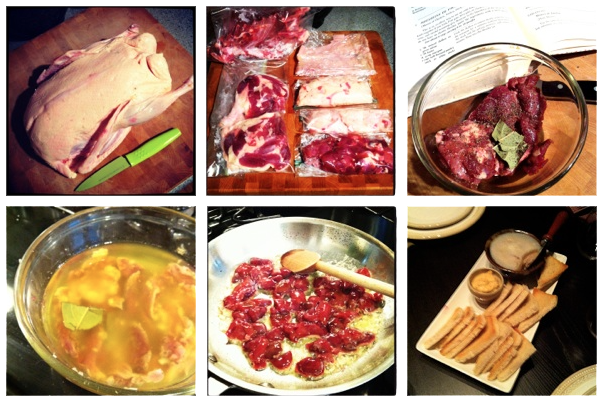 Recipe Adapted from Julia Child "Mousse de Foies de Volaille" in Mastering the Art of French Cooking
Ingredients:
8 oz chicken livers
2 tbs minced shallots
2 tbs butter
8 oz duck confit, shredded (yes, I made my own–have to wait for another blog post for this!)
1/4 c dry sherry
1/4 c creme fraiche
1/4 c soft butter
1/4 c duck consume from duck confit, melted or 1/2 tsp gelatin dissolved in 1/4 c stock
1/4 c duck fat, melted
salt, pepper, pinch of thyme & ground allspice
Instructions:
I noticed that there's a lot of loose interpretation between savory mousses and patés. Old school French points to mousses being cooked stovetop while patés are baked in the oven. New school doesn't seem to make much of a distinction. Whatever! I don't really care as long as it tastes great. So here is my new school, old school French mousse/paté interpretation.
Chopped the livers. Saute the shallots in butter, then add the livers. Saute until done, but still a bit pink in the middle. Season with salt, pepper, pinch of time and allspice.
In a food processor process duck confit as finely as possible. Add liver mixture and blend. Slowly add sherry, followed by creme fraiche and butter. Process until smooth. Careful not to break the emulsion. Check the seasonings. Pass the mixture through a fine sieve for extra smooth texture.
Spoon into ramekins and chill slightly. When slightly set, top with a layer of melted consume, followed by duck fat. Don't worry if they mix, the fat will rise to the top. Chill completely in the fridge. Remove 15 minutes before serving. Serve with buttered toast points and mustard.