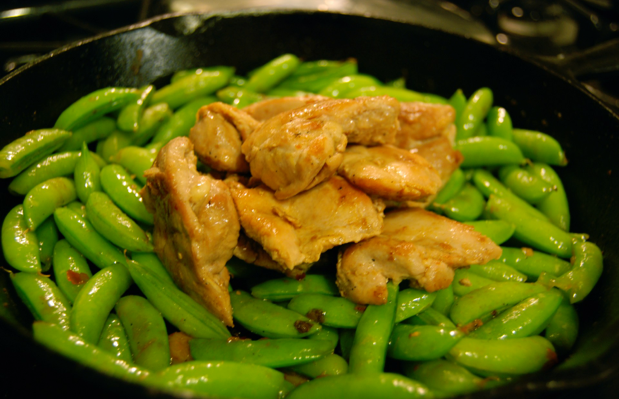 Ingredients:
1 lb Boneless Skinless Chicken Thighs
2 lbs Snap Peas
2 tsp Oil
1 tsp Sesame Oil
4 Whole Garlic Cloves, Pealed
2 tsp Garlic Chili Paste
1 tsp Sugar
1 tsp Rice Wine Vinegar
Salt & Pepper
Instructions:
Cut the chicken in thighs in half. Sprinkle with salt. Heat a saute pan and add the oils and garlic. Saute the garlic cloves until they are lightly brown. Add the chicken, browning on both sides, then saute until cooked through. Remove the chicken and garlic to a plate. Add the snow peas to the pan. When they turn bright green, add the garlic chili paste, sugar, vinegar and 2 tbs of water to the pan. Scrape the good bits off the bottom, stirring until the peas are coated and most of the water is evaporated. Don't over cook the peas! Add the chicken and accumulated juices to the pan. Toss together and serve.