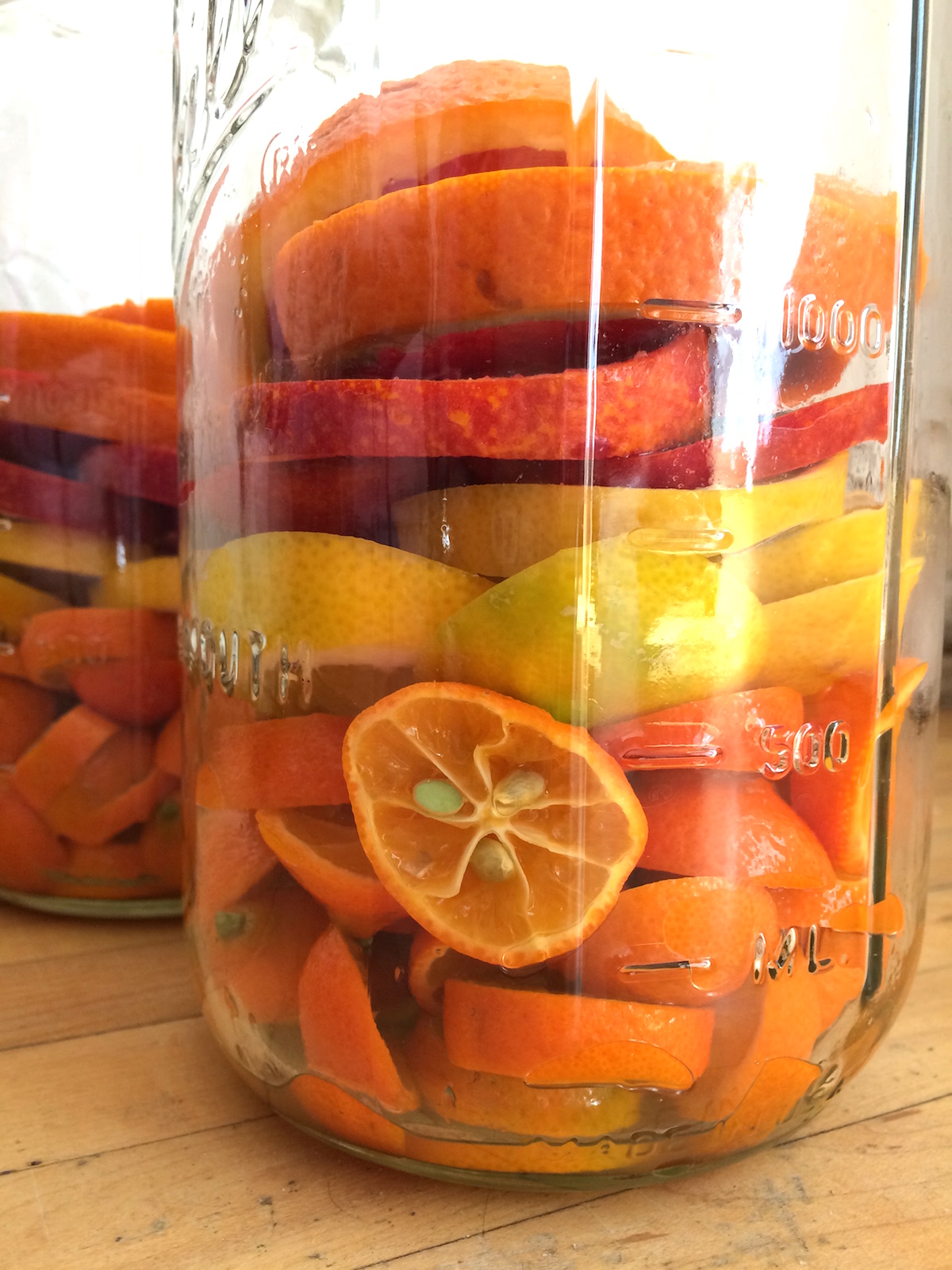 Ingredients:
3 red grapefruit, the deeper the red the better
3 blood or 2 cara cara oranges
3 Meyer lemons
4 mandarins, mineollas or other large tangerine-type fruits
3 kafir limes or equivalent combo of fragrant citrus like citron, key lime, Seville bitter orange, rangpur, etc
1 pint kumquats
1 tbs vanilla extract or 1 vanilla bean
3 c raw sugar
5 liter box of drinkable dry white wine or 6 bottles
750 ml vodka (cheap)
Instructions:
Feel free to cut this recipe in half, but know that you'll regret running out (as I discovered last summer.) We are making a lot here and it's worth it!  If you can find organic citrus, all the better, as you're using the peels. 
Wash fruit well, then slice into thin rounds.  I like them thin for maximum flavor extraction potential. Layer the fruit and sugar in a 3 gallon crock, jars or a food safe plastic bucket.  Mix the citrus and sugar with a large wooden spoon (or your clean hands) to stir the ingredients together.  Allow to sit overnight.
The next day add the wine, vodka and vanilla.  Stir well. Store in a cool, dark place for at least 2 months (or more).  When ready to bottle, strain the liquid, pressing on the solids to get every last bit of goodness.  Bottle and store out of the sunlight.  
Enjoy Vin de Citrus when summer returns.  This makes a beautiful drink served on the rocks, with a little soda or used in place of Campari in a classic Negroni.  And it makes a perfect gift!