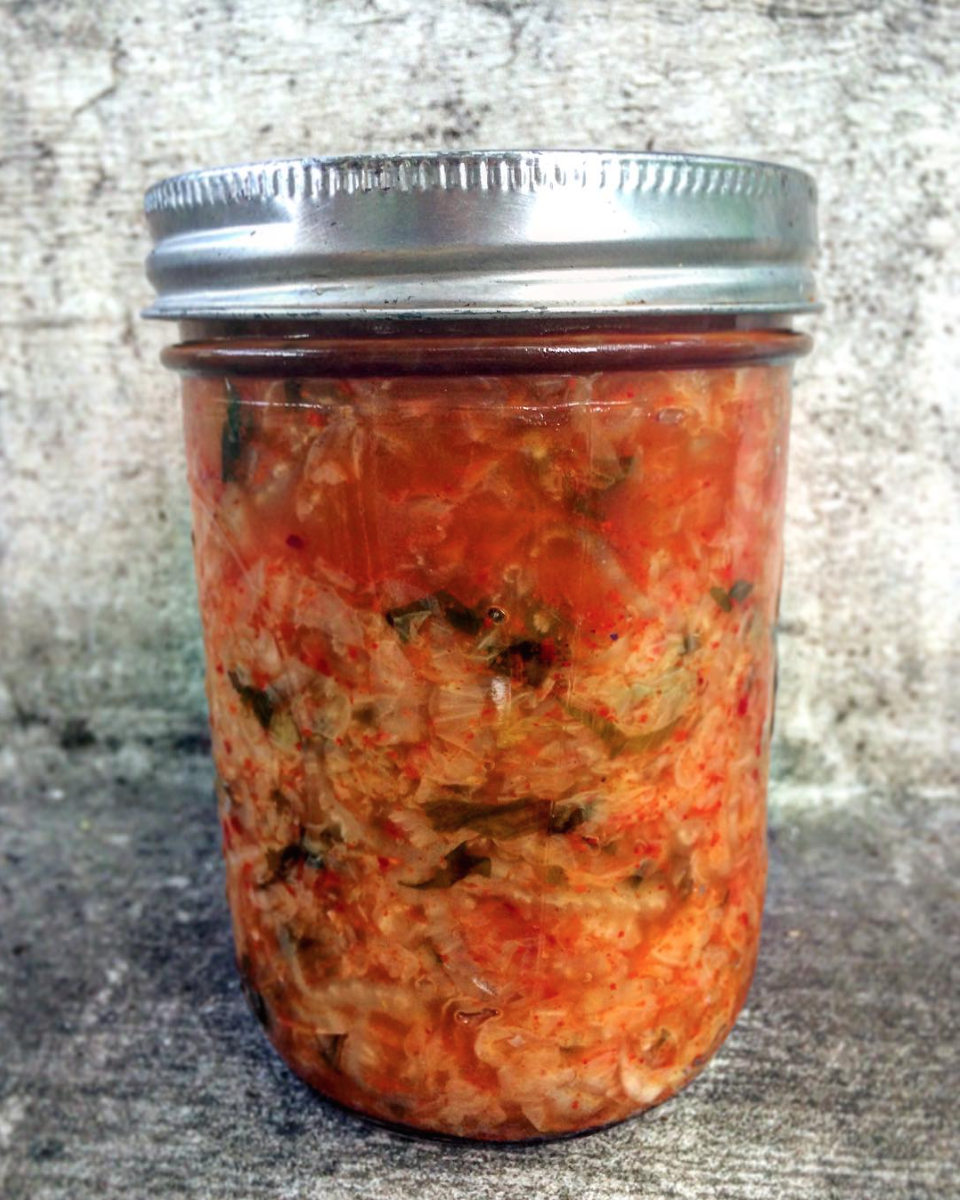 Ingredients:
1 small head napa cabbage (or half a large head)
2 cloves garlic
2 scallions
1" piece ginger
1 tbs Gochugaru (Korean Red Hot Chili Pepper Flakes)
1 tsp fish sauce
1 tsp kosher salt
1 tsp sugar 
Instructions:
Finely shred cabbage. Combine cabbage, salt, sugar and fish sauce in a large bowl and let rest for 30 minutes.  
Finely slice scallions, white and green parts. Grate garlic and ginger on a fine grater. Add scallions, ginger, garlic and chili flakes to the cabbage mixture, tossing to combine.
Pack mixture and juice into a quart jar.  It should just fit.  If needed, pack excess into another smaller glass jar.  Cover with an airlock-enabled lid, or with loose plastic wrap sealed with a rubber band.  Let the kimchi sit at room temperature for 4 days, releasing the pressure daily if using plastic wrap.  Press the mixture down if it rises above the liquid line. A jar weight may also be used to keep the cabbage submerged.
After 4 days, stir the mixture, pack it down again and top with a regular lid.  Store in the in a cool dark place for at least a week longer before eating, then refrigerateT.  Kimchi will easily last 3 months in the refrigerator before the texture becomes to mushy.  The kimchi gets more sour and hot over time.
Supply notes – Gochugaru (Korean Red Hot Chili Pepper Flakes)orean Red Chili Flakes can be purchased at your local Asian supermarket, or online.  I like the organic variety.
Jar weights and airlocks can be purchase online.  These are handy for holding down veggies in brine.  I like the ones at FARMcurious.